New Music Video: The 1975 - "Settle Down"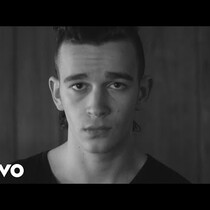 Posted February 7th, 2014 @ 12:35pm
When the 1975 stopped into Studio C and gave their interview, you got the sense that they truly value art. The glamour, the fame, and everything exciting that comes with being a rock band is a by product. If that's what comes with expression and art, then so be it.
Here is further proof of that sentiment. A well shot, black and white, and mysterious music video for their song "Settle Down".
Also, here is Matt's (singer) explanation of the video:
I used to have a reoccurring dream when I was younger. The narrative was loosely based, but the setting was always the surrounding areas of where my parents grew up. I think I was slightly obsessed with how certain, bleak areas of Northern England contained my history and the soul of my family, my psyche - I always felt connected and disconnected at the same time. Metaphorically and physically I would visit these places frequently as a youngster and in turn have used them as the setting to a lot of the stories in The 1975 - the North East was the visual setting to my formative years.

I suppose, like any narrative, the meaning and the connotations within the story are subjective. I've always been quite fascinated with the potency of same sex relationships, plutonic or otherwise. I was brought up in a very open minded environment, somewhere I felt that, whoever I was, I would be accepted. With this understanding I was also very aware of others, school friends, acquaintances - whom, due to where we lived, probably didn't have such a comfortable place to grow up, we were unaffected and affected by taboos and the small minded at the same time. I've dreamt the story of these two boys on countless occasions - every time drawing a different conclusion on its meaning.

With 'Settle Down' I wanted to make a story about the extension of that dream, a video that explores love, a video that was as fantastical, consuming and limitless as the love we all chase and desire. Love as I have always imagined.

So upon meeting Nadia, who directed the video, I told her about my dream. We sat for hours looking through pictures and talking - it was decided in those moments. We were just to film my dream. The process of making this video was so intensely exciting for me as I was finally working through and figuring out exactly what this place, this story and these characters meant to me. I think now that I understand it. But I'm totally open to suggestions / interpretations. X