For All the Cat Lovers Out There...Can You Imagine THIS?!?!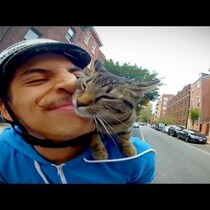 Posted April 8th, 2013 @ 6:15am
I stumbled onto this video, and, I've gotta say, there's NO WAY my cat, Akiko, would go for this. Plus, i'm not sure it's the safest idea, both for the guy on the bike and the cat, but this short, little video is so cute and just what i need to get my Monday started. Enjoy!